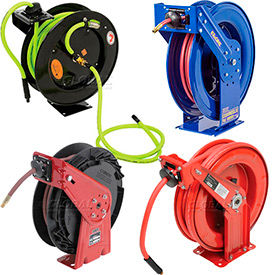 Spring Driven Hose Reels
Spring Driven Hose Reels Provide Convenient Hose Storage and Access For A Variety of Commercial and Industrial Environments.

The adjustable guide arm allows multi-angle floor or wall mounting for location versatility. The shielded stainless steel spring and latch mechanism ensure retraction for years of reliable service. The field-tested swivel is designed to give you full hose access from any area of your jobsite. The reels are made of heavy duty reinforced steel for strength and durability. The powder coat finish improves weather resistance in moist or wet conditions. The lightweight design allows you to easily mount the hose reel for installation ease. Hose supports both air and water for application versatility. Dimensions vary per model.