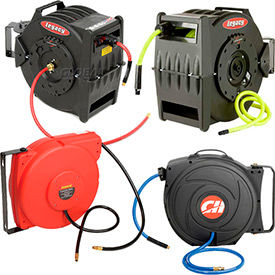 Composite Spring Retractable Hose Reels
Composite Spring Retractable Hose Reels Automatically Wind and Store Hoses For Automotive, Manufacturing, Repair, and Other Applications.

Composite spring retractable hose reels provide a motor designed to auto-retract the hose for easy and efficient storage. The polypropylene case is impact and corrosion resistant to protect the reels. Latching system ensures positive latching in any mounting position. The reels may be wall or floor mounted for easy accessibility. Hoses support air or water applications. Lengths range from 23' to 100'. IDs are 3/8", 1/2", and 5/8". PSIs range from 125 - 350. Can be used for air, air/water, water only, and hot water. Hybrid polymer or PVC construction provides lasting durability. Dimensions vary per model.