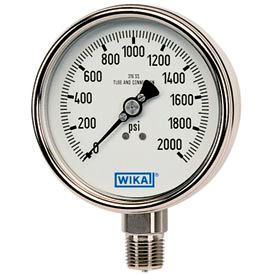 Wika® Stainless Steel Industrial Gauges With Bayonet Ring
Wika®Industrial Gauges With Bayonet Rings Are Used For Equipment In Chemical Applications, Power Generation, Pollution Control And More.

Wika® Stainless Steel Industrial Gauges are made with a Type 304 stainless steel case and bayonet ring and Type 316 stainless steel wetted parts. Twist-on bayonet bezel ring. Removable laminated safety glass window is removable. White aluminum dial with adjustable black aluminum pointer. Liquid fillable. Ambient operating temperature range is -40 to 140°F if dry or silicone-filled and -4 to 140°F if glycerine-filled. Available sizes in 2-1/2 and 4 sizes. 1/2 or 1/4 NPT connection. Compatible with U.S. Gauges 1961 and 1962, and Ashcroft 1009-XPR, 1020S, 1009S and 1009SW.