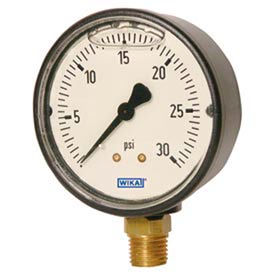 Wika® Glycerine Filled Commercial Gauges
Wika® Glycerine Filled Commercial Gauges Are Used For OEM And General Industrial Applications.

Glycerine fill liquid dampens the Bourdon tube and reduces wear of the movement to extend gauge life. Designed for air compressors, hydraulic presses, pumps, marine engines and other hydraulic or pneumatic equipment. Wetted parts are made with a brass copper alloy. ABS plastic case provides impact resistance. Plastic window is ultrasonically welded to gauge. Ambient operating temperature range is -4 to 140°F. Gauge sizes available are 1-1/2 or 2-1/2 . Compatible with US gauges 580L and 580LU, and Ashcroft 3005P.