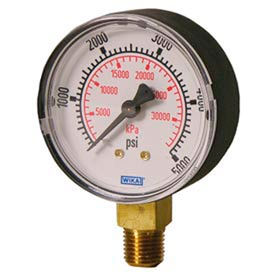 Wika® Steel Commercial Gauges
Wika® Steel Commercial Gauges Are Used For Use With Pumps, Valve Positioners, Compressors Or As A Contractor's Gauge.

Steel commercial gauges feature lower mount connection. Wetted parts are made from a brass copper alloy. Black steel case provides long-lasting durability. Removable snap-off acrylic window. White aluminum dial. Ambient operating temperature range is -40 to 140°F. Available gauge sizes are 1-1/2 , 2 and 2-1/2 . Compatible with US Gauges 1370, P-500 and P-505. Gauges are for use in applications where measured media does not corrode brass.