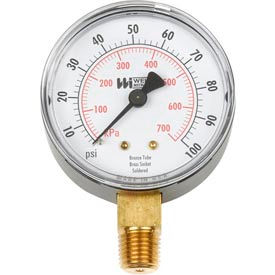 Weiss Utility Gauges
Weiss Utility Gauges Allow Convenient Pressure Visibility for Air, Water, Gas, and Other Related Areas.

These gauges are designed for general service conditions (for pressure or vacuum) on air, water, gas, or any other medium that doesnt attack brass. Sizes range from 2 inches to 4-1/2 inches. Models are made with an acrylic window and are available with PSI ranging from 0-15 PSI to 0-300 PSI. Models with 0-30 inch VAC are also available. All dial bottom sizes are 1/4 inch NPT (threaded). All Weiss TL Gauges conform to ANSIB40.1 accuracy Grade B-2% mid scale.