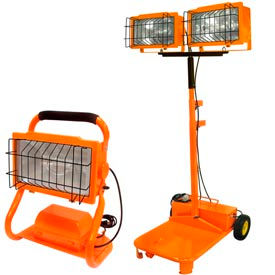 Professional Work Light
Professional Work Light Provides High Safety Visibility For Construction, Roadway, Maintenance, and Other Related Environments.

These work lights include metal halide or halogen bulbs to provide the maximum amount of light while consuming less power than other high-intensity discharge lamps. The rugged exterior housings offer an added layer of bulb protection against impact and harsh weather conditions. Base styles include Stationary, Mobile, or Magnet. Available types are Single Head or Dual Head. Lumens range from 500 to 220,000. Color finishes are Black, Orange, or Yellow.