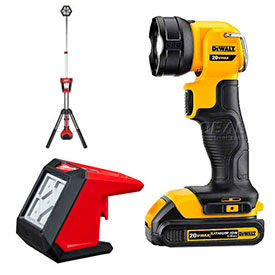 Work Lights, Spotlights & Floodlights
Work Lights and Flashlights Provide Targeted Area Lighting For Construction, Industrial, Commercial, and Other Related Applications.

Work lights and flashlights operate with high quality LED bulbs while providing a brighter light output over halogen lights. Work light hooks, hangers, and magnets provide hands free overhead lighting that can be mounted in various locations. Some work lights feature a polycarbonate lens for impact resistance to prevent injury in the event of a fall. Portable work lights feature a compact design for convenient unit handling, transport, and storage. Some electrical models feature cordless operation and AC inlets for extended runtimes without probability of overheating. Additional specifications vary per model.