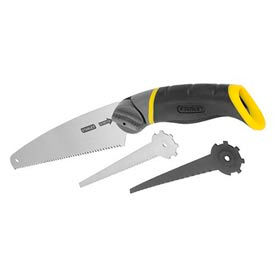 Stanley Specialty Saws
Stanley® Specialty Saws Are Used For Various Personal Or Professional Cutting Applications.

Stanley® Specialty Saws are made for long lasting durability and dependability. Various types available depending on particular need or application, including Multi-Purpose Saws, Jab Saws, Folding Pocket Saws, Keyhole Saws, Pull Saws, Fine Finish Saws, Flooring Saws, Bow Saws and more with various Wood, Metal or Bi-Material comfortable grip handles. Blades vary from 5 to 26 inches in length.