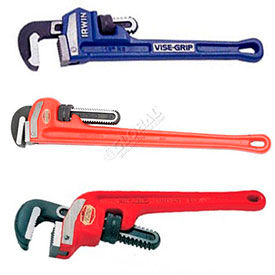 Cast Iron Pipe Wrenches
Cast Iron Pipe Wrenches Are Designed to Grip and Turn Pipes, Nuts, and Bolts For Various Applications Including Plumbing, Residential, Industrial, and more.

Cast iron pipe wrenches ensure a firm grip when handling old, oxidized, and even damaged equipment. Spring-loaded design provides ratchet-like performance for user convenience. Full floating hook jaw allows instant grip and release for handling efficiency. Colors and dimensions vary per model.