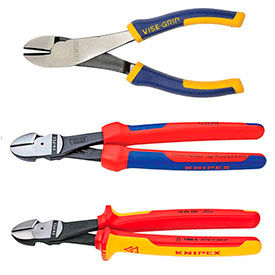 Diagonal Cutting Pliers
Diagonal Cutting Pliers Allow Safe, Reliable Wire Cutting In Tight Areas.

These pliers are available in a variety of sizes and specified styles to suit cutting needs during electrical assembly and maintenance applications. Cushion grips ensure comfort and safety during use. Some pliers are non-sparking and non-magnetic for use in hazardous work areas. Diagonal cutting pliers are available from several trusted brand names.