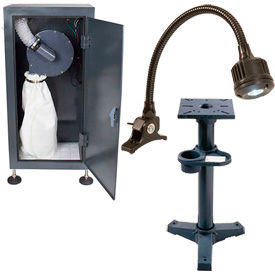 Stands & Accessories
Stands and Accessories Provide Convenience and Safety Enhancements For Grinding and Buffing Machines.

Stands and accessories attach or support a variety of equipment in need of accessibility enhancement. Pedestal Stands come in several sizes to suit grinders ranging from 6" up to 14". Eye Shields fit on bench grinders to keep eyes protected from dust and debris. Grinder Stones are replacement parts compatible with 8" DeWalt® bench grinders. Grinding Wheel Dressers are available for grinding wheels ranging from 1" to 3". LED Work Lights are mountable lights with adjustable necks that provides illumination for workspaces. Tool Rests mount onto DeWalt® bench grinders. Bench grinder stands and accessories are available from several trusted brand names. Additional specifications vary per model.