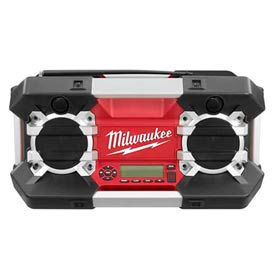 Cordless Jobsite Radios
Milwaukee Cordless Jobsite Radios & Speakers Are Used In Construction Sites Or Work Areas For Streamed Audio.

Milwaukee Cordless Jobsite Radio features built-in charger to provide quick, convenient charging of all M18™ batteries. Exclusive Bluetooth® receiver streams audio wirelessly from over 100 feet for user and job site convenience. USB Power Port provides 50% faster device charging and premium peakers with 40-Watt amplifier provide optimum performance. Radios also have customizable equalizer, 10-station preset, roll cage and metal handles. Weather-Sealed Compartment provides on-board protection for small belongings or phones. On-board bottle opener also included. 12V, 12V-28V DC, and 120AC voltages. Weights are 3.5 and 17.5 lbs.