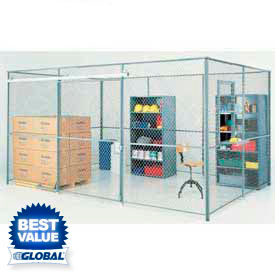 Wire Mesh Security Partitions - Design Your Own
Wire Mesh Security Partitions - Design Your Own Provide Easily Customizable Barrier Protection For Warehouses, Manufacturing Plants, and more.
Create high-visibility security areas with our easy-to-install mesh partitions designed for unrestricted ventilation and layout flexibility. Used for drug companies, electronic firms, military installations, cargo areas, stock rooms, etc. Constructed of 10-gauge wire woven in a 1-1/2" diamond pattern with a strong 1-1/4" x 5/8 x 14-gauge cold rolled C channel frame. Wire mesh is clinched, not welded, into frame - for heavy-duty strength and enhanced appearance. The partitions are available in standard widths of 1, 2, 3, 4 and 5 feet with heights of 8 and 10 feet.
Sliding gate and hinged doors are supplied with a FREE mortise cylinder lock and a FREE 3-1/2" wide stiffener post, for extra strength.
An optional service window is available. Wire Mesh Panels include floor sockets, nuts, bolts and detailed assembly instructions. Gray powder coat finish.
ORDERING SUGGESTIONS
Utilize as many 5-foot wide panels as possible for most efficient pricing. Add one channel stiffener post for every two panels. Top capping is required - order in 10-foot sections.
Doors measuring 10 feet in height are comprised of an 8 foot high door and a 2 foot high wire mesh transom above the door (transom included in door purchase). The complete measurement for the transom and the door is 10 feet. The door opening for the 10 foot door is 8 feet in height.
8 Ft. Doors do not include a transom
How to plan and order Wire Mesh Security Panels