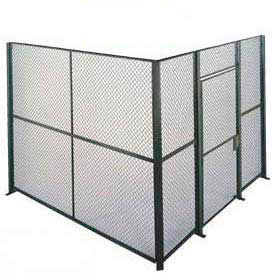 Husky Rack & Wire EZ Wire Mesh Partitions - Design Your Own
Husky Rack and Wire EZ Wire Mesh Partitions - Design Your Own EZ Wire Mesh Partitions Supply Customized Barriers For Industrial Areas Such As Warehouses, Factories, and more.

Husky Rack and wire ez wire mesh partitions - design Your Own install without nuts or bolts. Fasteners and pins are not visible from the outside, leaving a smooth finish. Wire mesh is constructed of 10 gauge steel in a 1-1/2" diamond wire weave. Electrostatic gray baked enamel. Shipped in crates to prevent shipping damage.

Hinged Doors are 7'H with transom. Hinges right or left. Opens in or out.
Sliding Doors mount on outside and slide left. Includes floor guide and cylinder lock.
Wire Panels are two 4"H panels that stack to form 8'H walls. Includes drive pins to secure to posts.
Posts are used between each panel, at corners and on both sides of doors. Includes 2 lag bolts to secure to floor.
Fill-a-Gap Panel fills the space between a run of panels and the wall. Door type and dimensions vary per model.