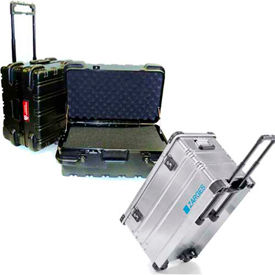 Wheeled Shipping Cases
Wheeled Shipping Cases Are Used For Applications Including Commercial, Industrial, Transport, And More.

Wheeled shipping cases are made of high quality materials for long lasting durability and dependability. Cases provide tool and equipment storage and transport protection. External bumpers allow impact resistance for unit and hardware stability. Telescoping spring loading handle and wheels allow ergonomic handling and mobility. Latches and padlock loops ensure added security and theft prevention. Foam interior provides content safety. Styles are Case w/ Foam Wheels and Case w/ Wheels. Lock types are Aluminum/Stainless Steel Latches/Handles, Butterfly Latch, Keyed Latch, Latched, and Latched w/ Padlock Slots. Color finishes are Black and Silver. Dimensions vary per model.