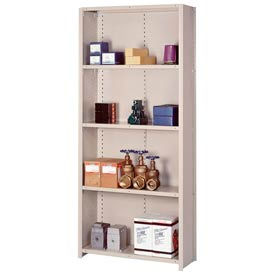 Lyon® Closed Steel Shelving
Lyon® Closed Steel Shelving Can Serve As Room Dividers And Offer Protection Of Stored Items From Dust And Sunlight.

Lyon® Closed Steel Shelving feature sturdy construction and easy installation that makes offset angle shelving perfect for applications calling for stand-alone sections. T-Post upright design is made of durable, roll-formed steel and allow easy and quick shelf adjustment on 1-1/2" increments for long lasting use. Starter units provide all necessary components for a complete shelving unit. Add-on units allow seamless addition of shelves onto existing freestanding closed shelving units. Available with 5, 6, 7 or 8 shelves per unit. Shelf capacities range between 560 and 900 lbs. Colors are Blue, Gray, and Putty. Dimensions vary per model.

**Additional sizes & colors are available upon request.