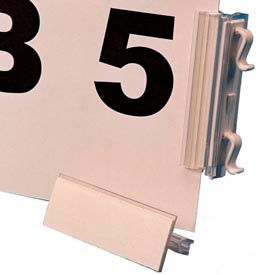 Aisle Signs (11" High)
Aisle Signs (11" High) Help Create Your Own Customized Warehouse Aisle Signs at a Fraction of the Cost.

Signs are designed for warehouses, libraries or store rooms. Includes laser/ink jet paper inserts for clear identification. Clear plastic sign holder with soft plastic hinge allows sign to flex when bumped with no breakage. Holds any paper stock up to 0.100 thick.

Slip On Signs feature unique snap clips that easily attach to and relocate on pallet rack assembly holes.
Stik On Signs are for more permanent installation. Contains self-adhesive backing that adheres onto surface.

Sold in packs of 10 pcs.