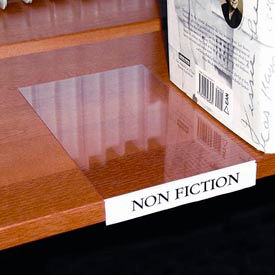 Clip On & Slip On Label Holders (1/2" - 3" High)
Clip On and Slip On Label Holders (1/2" - 3" High) Allow High Visibility Identification For Schools, Libraries, Storage Rooms, and more.

Clip on and slip on label holders (1/2" - 3" high) are suitable for a variety of shelves. Available types are Clip Label, Pipe and Tubing, Shelf Clip, Shelf Edge, T-Slot, and Wire Basket. Open-Edge™ Holders are top-loading and can be cut to length. Snap On Holders offer a clear, flat, tube design for thin shelving. Aggressive adhesive system assures label holder will not fall off any clean, dry surface. Most units are bar code compatible clear facing, white backing, and feature an aggressive, long lasting adhesive. Most models include paper inserts. Dimensions, package quantities, and additional specifications vary per model.