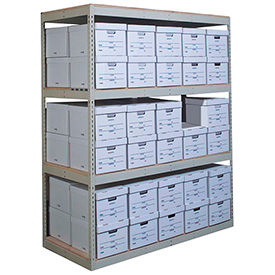 Rivetwell Record Storage Shelving
Rivetwell Record Storage Shelving Maximize Storage Space for Boxes of Records.

Rivetwell Record Storage have components that attach snugly to one another without the need for loose fasteners. Factory attached rivets are all left-to-right and front-to-back beams and align with keyhole slots in the vertical posts. Once tapped into place using a rubber mallet, the units are tightly assembled for maximum strength and stability. Available in single and double rivet models. Use Hallowell Particle Board or EZ-Deck decking (double rivet only) - sold separately. Available shelf quantities are 3, 4, and 5. Up to 1150 lb. shelf capacity. Other dimensions vary.