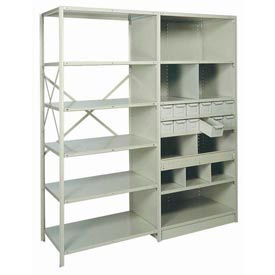 Lyon® Shelving Accessories
Lyon® Shelving Accessories Are Used For Stockrooms, Shipping Departments, Storage Rooms And More.

Shelving accessories provide every component needed to create sturdy and functional storage units. Drawer Guide Supports support bolts to shelving uprights. Braces and Posts are available in multiple sizes and styles to suit a variety of shelf configurations. Clips allow secure and simple connection of shelving components. Shelving Doors allow storage closets to be created from freestanding shelves. Shelving Units create flat and angled sorting compartments used for tools and other items. Available colors are Blue, Gray and Putty. Lifetime Limited Warranty.