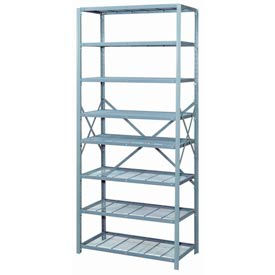 Lyon® Open Steel Shelving
Lyon® Open Shelving - Starters & Add-On Units Provides Open Shelving For Warehouses, Storage Units, and more.

Open shelving maximizes air circulation, allows increased visibility, deters dust buildup and provides enhanced fire safety by allowing more sprinkler access through shelves from top to bottom. Traditional Flanged Shelves are 18-gauge and provide up to 700 lb. capacity. Medium Duty Shelves are 22-gauge and provide up to 600 lb. capacity. Heavy Duty Shelves are 20-gauge and provide up to 900 lb. capacity. Extra Heavy Duty Shelves are 18-gauge and hold up to 1300 lbs. Galvanized Shelves provide long life in harsh conditions such as high humidity, salt air or unheated warehouses. Galvanized Shelves are also used for safe storage of solvents and cleaning agents. Open shelving is available in a variety of sizes. Choose from 5, 6, 7, or 8 shelves per unit. Available colors are Blue, Gray and Putty. Lifetime Limited Warranty..

**Additional sizes & colors are available upon request.