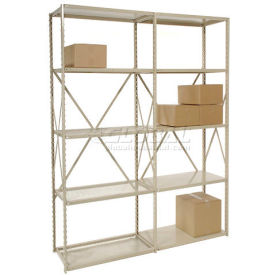 Tennsco Extra High Steel Shelving Components (Up to 14' High)
Up to 14 Foot High Shelving!
Customize to your storing needs!
Used for storage rooms, stock rooms, record storage and more. High Shelving minimizes the amount of floor space needed for high-volume storage by utilizing vertical space. Build your own for flexible customization to your storing needs. Determine the floor space available including width, depth and height of storage area. Order a minimum of 2 side by side shelving units for stability. Start with 3 upright assemblies, rear sway braces for stability and desired amount of shelves for storage. Add 1 additional upright assembly; sway braces and shelves for each shelving unit until overall desired width is met. Epoxy coat sand finish provides smooth, attractive surface.
Upright Assembly includes two 16 gauge steel posts with 18 gauge anti-sway side braces. Uprights greater than 8'H will include 2 anti-sway braces. Allows easy assembly for varying depth units. Uprights allow shelf height adjustments at 2" increments. 18 gauge Rear Sway Braces are riveted together in center and provide added stability and rigidity. 2 or more pairs of rear anti-sway braces are required for units over 8'H. Steel Shelves feature 500 lb. shelf capacity, 22 gauge welded steel and box formed for added strength. Choose between Plain shelves with a solid top surface and Perforated shelves to allow light, air and sprinkler penetration.