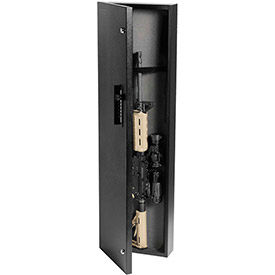 V-Line Steel Rifle & Shotgun Safes
Steel Rifle And Shotgun Safes Provide Storage And Security For Firearms In Residential Or Commercial Environments.

Steel Rifle and Shotgun Safes are made of all-welded steel construction for long lasting durability. Horizontal or vertical mounting provides easy out of the way storage. Five push button mechanical lock provides quick and easy access to firearms. Combination lock is easily set and changed allowing up to 1081 possible codes. Case is lined with foam and includes a Self Adhesive strap to provide added security for firearm. Two tumbler locks with keys are located in each corner of safe for added security. Available types are Shot Gun Safe and Rifle Safe both safes hold 1 gun. Dimensions available are 8"Wx3-1/2"Dx42"H and 12"Wx3-1/2"Dx42"H. Color finish is Semi Flat Black.