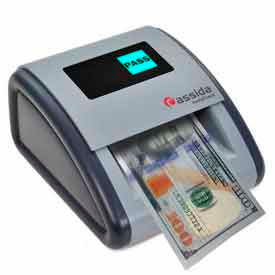 Counterfeit Money Detectors
Counterfeit Money Detectors are Designed to Analyze and Detect Fake Currency and IDs for Law Enforcement, Financial Institutions, and more.

Counterfeit money detectors are suitable for restaurants, gas stations, liquor markets and small business applications to protects against counterfeit currency and falsified documents. Lightweight and portable design for ease of use and transport to other countertop locations. Ultraviolet Detectors allow automatic sensor detection. 4-Way Counterfeit Detector includes UV lamps, magnetic sensor, MG ink indicator, fluorescent light and magnifying lens. Infrared Detector features an Infrared camera detector and built-in display to verify photosensitive inks and anti-counterfeit design patterns on newer bills. Tri-Test Counterfeit Detector detects counterfeit currency and authenticates drivers' licenses, passports, credit cards, travelers' checks and more. Types are 4 Orientation Automatic Counterfeit Detector, 4-Way Counterfeit Detector, Bank Grade One Pocket Discriminator, Bank Grade Quick Scan Detector, Counterfeit Detector, Counterfeit Detector & ID Verifier, and more. Colors are Black, Black/Gray, and Gray. Dimensions vary per type. Quantity is 1.