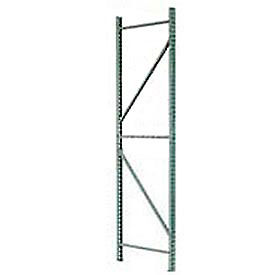 Wireway Husky - Tear Drop "Invincible" Pallet Upright Frames & Accessories
Husky - Tear-Drop "Invincible" Pallet Rack Upright Frames
Are punched on 2 centers for maximum adjustability and space efficiency. These storage rack upright frames feature base plates that anchor them to the floor and distribute weight evenly. Determine the frame capacity needed based on total weight of all pallets, excluding pallets on the floor. Constructed of high strength steel. Assembles easily in minutes without tools.
Frame capacity shown is based on 36" pallet rack beam shelf spacing.
Click here for complete capacity chart.
Warehouse rack accessories are also available.
Click
here
for complete capacity chart.