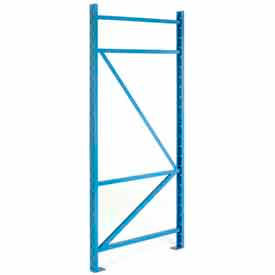 Steel King® SK3000® Series Structural Pallet Rack Uprights
Steel King® SK3000® Series Pallet Rack Uprights Are Constructed To Increase Strength and Performance In Tough Environments.

Steel King SK3000® Series pallet rack uprights are made with structural channel steel. The thickness of the steel especially in the corners of the rack enables it to sustain greater resistance from fork lift collusions. Diagonal and horizontal braces are used throughout the entire frame for added strength. Footpads are constructed of 7-gauge steel plates and are welded to each column of the rack for extra durability.

For Wire Decking, must use "Flared Channel" type special order from Nashville Wire.