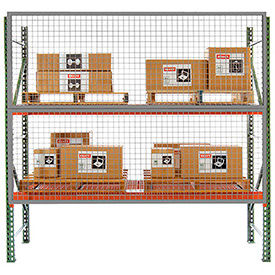 Husky Rack & Wire - Pallet Rack - Wire Mesh Guards
Husky - Wire Mesh Pallet Rack Guards Help Prevent Materials From Falling Off Racks.

Made using 2" x 2" x 8 gauge welded wire mesh with heavy duty angle iron framing for strength and durability. Extension support guards materials on top of pallet racks. Mesh protects materials while allowing easy viewing of inventory. High quality yellow polyurethane paint finish. Guard panels have pre-punched holes for bolting units together using included carriage bolts. Panels are easily attached to Pallet Racks using Spacer Clips or Flush Mount Clips (sold separately). 4 clips required per panel.