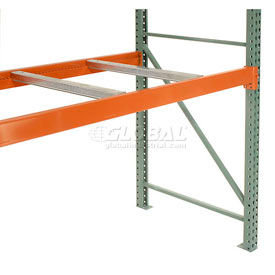 Pallet Rack - Cross Bars & Accessories
Pallet Rack - Cross Bars and Accessories Accommodate Shelving Support For Warehouses, Facilities, and more.

Pallet rack - cross bars and accessories complete your pallet rack with a wide range of accessories including Cross Bars, Row Spacers, Wall Brackets, and more. Accessories work with Global, Interlake, Wireway/Husky, Unarco, Steel King and many other Pallet Racks. "Roll-In" type Cross Bars work only with "Slotted" Beams. Dimensions and additional specifications vary per model.