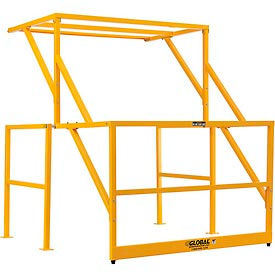 Mezzanine Safety Gates
Mezzanine Safety Gates Allow Ergonomic and Secure Mezzanine Access For Factories, Plants, Warehouses, and more.

Gates allows easy and safe access to mezzanines using manual swing-action gates on each end. Gates swing up and down to provide a usable area of 58" W x 70" D x 76" H. Swing gates are balanced for ease of operation without use of springs. Mezzanine safety gate is made of heavy duty welded steel. Mezzanine gate features 42" H handrail, 21" H mid-rail and 4" H kick plate for operator safety. Yellow powder coat finish for high visibility. Meets OSHA requirements.