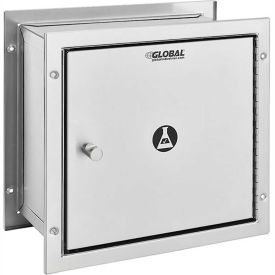 Pass Through Specimen Cabinets
Pass Through Specimen Cabinets Provide an Efficient and Convenient Passage From Patient Areas to Laboratories.

These cabinets are made of 22 gauge type 304 stainless steel Exposed surfaces have a #4 satin finish. Doors are attached with a full length 3/16" dia. stainless steel piano hinge and close using a spring tensioned interlocking mechanism that prevents both doors from simultaneous opening. Cabinet has a self-closing door that prevents both doors from being opened at the same time. Includes a removable stainless steel tray. Mounts in wall thickness of 1-3/4" to 5-1/2". Fixed trim is 1"W formed from one-piece for strength. Each door includes an international decal for identifying usage.