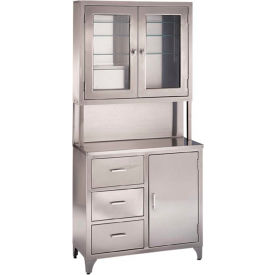 Blickman Freestanding Medical Cabinets
Blickman Freestanding Medical Cabinets Are Used For Hospitals And Medical Centers.

Blickman Freestanding Medical Cabinets are made of steel and glass for long lasting durability. Cabinets are mounted on 4 stainless steel legs.Kennedy Cabinet has two distinct sections separated by a stainless steel work surface for greater versatility. Features independently-locked narcotic locker and three glass shelves in upper section for increased safety and security. Bottom section consists of three 7 inch deep drawers, a closed-door compartment and one stainless steel shelf for optimal storage and organization. Right hand door is equipped with locking knob and three-way latch. Left hand door with dummy knob and roller catch. Doors operate on semi-concealed stainless steel hinges for ease of use. 36 inch Width x 8 inch Upper Depth/16 inch Lower Depth x 110-1/2 inch Height. Kay Cabinet can be reconfigured with 2 solid doors, all stainless steel shelving and a sloping top or casters to suit your requirements. Upper section consists of a glass door and three adjustable 14-1/2 inch glass shelves. Features locking door latch to secure contents. Bottom section has solid stainless door and houses one removable stainless steel shelf. 30 inch Width x 16 inch Depth x 58 inch Height.