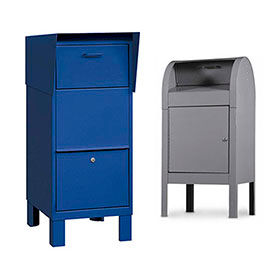 Curbside Courier And Collection Box (Private Delivery Only)
Steel Curbside Collection Boxes Are Used For Payment Deposit, Library Book Drop, DVD Return Or Anywhere Secure Collection Of Private Materials Is Required.

Steel Curbside Collection Boxes are made of strong, durable steel for years of reliable use. Mail drop box includes spring-loaded hinged door large enough to accept small parcels or packages. Curbside collection box has locking lower door that keeps envelopes and packages secure until pick up. Drop boxes are made for private use only. Color finishes and dimensions vary per model.