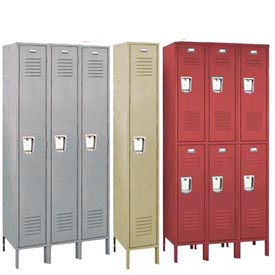 Penco Vanguard™ Steel Locker With Recessed Handle Ready To Assemble
Penco Ready-To-Assemble Storage Lockers Offer A Recessed Handle To Provide A Smooth Front, Catch-Free Locker Surface.

Penco school lockers feature a stainless steel recessed handle that provides a smooth, catch-free front and protects padlocks from being tampered with. Locker doors feature spot welding for rigidity. Doors are louvered for ventilation. Office storage lockers include continuous door strikes to ensure secure closure and rubber padding to dampen closing noise. Metal lockers have 5-knuckle hinges for strength. Latching channels have nylon glides to reduce sound when opening or closing. Legs add 6" to height. Single Tier Office Lockers have 3-point latching (top, bottom and sides). 18 D lockers include coat hooks and a coat rod. Double and Triple Tier Employee Lockers have 2-point latching (top and bottom). Includes coat hook. It's recommended to anchor steel lockers to floor and/or wall for safety. Powder coat finish.