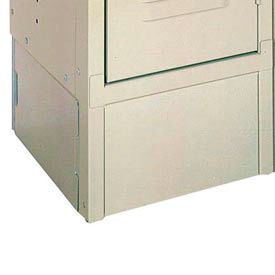 Lyon® Locker Accessories
Lyon® Locker Accessories Enhance The Look And Safe Use Of Lyon® Lockers.

Reinforced clear vinyl tubing provide safe anchoring of lockers and enhancement of appearance. Available colors for cosmetic locker accessories are putty and gray. Anchoring Angles provide a bearing surface for lockers without legs. Locker Foot is designed for keeping lockers with legs anchored and stable. Closed-Style Bases are available for locker fronts and ends to cover gaps and prevent dust and debris buildup. Front Expansion Fillers are built to close spaces between lockers to ensure anchoring and prevent buildup of dust between lockers. Top Fillers and Top Closures are built to close off spaces on the tops of lockers. Available flat or sloping. Available for lockers with or without legs. Number Kit includes aluminum number plates with numerals etched in black. Numbers stocked from 1 through 999. Lifetime Limited Warranty. Additional specifications vary per model.