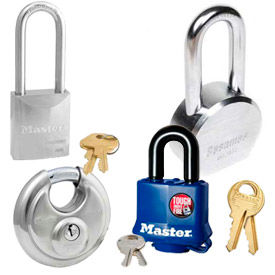 Durable High Security Solid Steel Padlocks
Durable High Security Steel Padlocks Resist Prying, Picking, and other And Physical Attacks.

Durable High Security Steel Padlocks are used on storage lockers, security gates, sheds, truck and van doors, industrial machinery, construction equipment and more. Sturdy steel construction provides long lasting durability and reliable resistance to abuse. Comes in a wide variety of styles to fit the maximum number of applications. Lock types are Keyed Alike and Keyed Differently. Diameters range from 1/16" to 1/2". Lock colors include Black, Chrome, Blue, Camouflage, Orange, and Yellow. Dimensions vary per model.