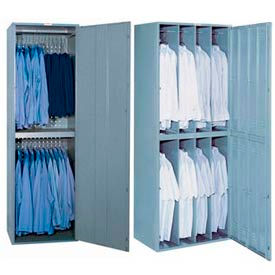 Lyon® ExchangeMaster® Lockers
Lyon® ExchangeMaster® Lockers Provide An Effective Security System For Storing Uniforms, Linens, Personal Items And More.

ExchangeMaster® Lockers provide up to 16 people with an individual locker compartment while a master door allows easy access by supervisors or maintenance personnel for servicing. Made using 16 gauge steel framing and 22 gauge steel doors. Hanging Garment Lockers are available in multiple configurations to accommodate various volumes of hanging garments. Folded Garment Lockers keep uniform garments neatly folded and secure. SupplyMaster II® Service Lockers are made for disposal of soiled clothing and linens. Swinging panel at top allows items to be dropped into lower compartment. Multi-point latching system remains locked until opened by authorized personnel. Back is perforated for ventilation. Lifetime Limited Warranty.