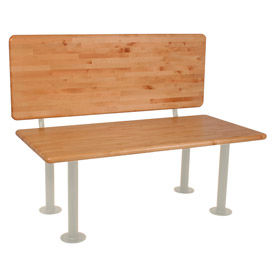 ADA Locker Room Bench With Back Support
ADA Locker Room Bench Provide Back Supply Seating Areas For Locker Rooms, Closet Rooms, and more.

ADA Locker room bench with back support are designed to withstand the temperature environment of locker rooms and similar settings. ADA compliant locker room. Two-coat catalyzed finish maple hardwood top with radius on all sides and corners for comfort. 1-1/4" Thick hardwood seat and 18" high back. Almond pedestals are made of heavy duty steel tubing with top and bottom bell flanges for attachment and placement. Specifications vary per model.