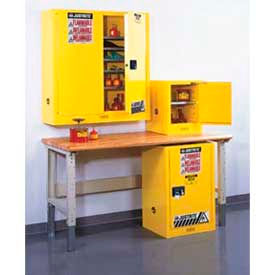 Compact, Countertop & Wall Mount Flammable Cabinets
Compact, Countertop, and Wall Mount Flammable Cabinets Provide Secure Containment For Flammable Materials.

Compact, countertop, and wall mount flammable cabinets hold gas containers in safe enclosures where minimal space is available. Models are compact designed to minimize space occupancy. Select units include a recessed paddle handle and self-locking door mechanism. Impact resistant, all-welded steel build provides lasting durability. Available Styles are Compact, Countertop, Under Fume Hood, Undercounter, and Wall Mount. Maximum gallon storage capacity is 31. OSHA compliancy and additional specifications vary per model.