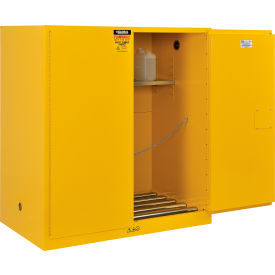 Global™ Drum Storage Cabinets
Global™ Drum Storage Cabinets Are Suitable For Sensitive Equipment In Need of Secure Storage Protection.

Global™ Drum storage cabinets safely contain drums of flammable or hazmat contents. Drum rollers keep drums elevated off the cabinets sump, while making it easier to load and unload drums and a half shelf for additional storage space. Cabinets are reinforced double-walled steel with a 1-1/2" in air space between walls. Models include two 2" flame vents. Global™ 110 Gal Drum Storage Safety Cabinet-Manual Close w/ Rollers features a yellow multilingual warning, plus grounding attachment, 3-point latch system, and 2-in raised, leak-proof door sill. Manual closing doors swing on continuous piano hinges. Gallon Capacity is 110 Gallons. Yellow powder coated finish, and rugged steel construction provides lasting durability. Cabinets are UFC and EPA compliant.