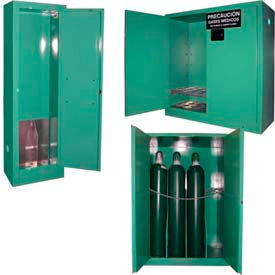 Medical Gas Cylinder Cabinets
Medical Gas Cylinder Cabinets Provides Safe And Compliant Storage Of Portable Oxygen Cylinders.

Medical Gas Cylinder Cabinets are made of steel for flame resistance and long lasting durability. Stores D, E, and H oxygen gas cylinders safely and in compliance with OSHA and NFPA standards. Lockable doors limit access to authorized personnel, protecting cylinders from theft, damage and/or tampering. Heavy-gauge, double-walled construction shields cylinders from heat, sparks and flame. Separates flammable and combustible materials. Designed for D- and E-size cylinders up to 33-3/4 inch long x 4-1/4 inch diameter, and H-size cylinders up to 60 inch long x 9-1/4 inch diameter. Fire lined models fitted with a 3/4 inch gypsum panel drywall interior. Helps prepare hospitals, nursing homes and emergency medical services for 3-year JCAHO accreditation survey. Types are Medical Oxygen Gas Cabinet and Medical Oxygen Gas Cabinet w/Fire Lined Interior. Dimensions vary per type. Door types are Manual and Self-Closing. Cylinder capacities are 2, 4, 9, 12 and 24. Cylinder types are D/E and H. Color finish is Med Gas Green. Package quantity is 1.