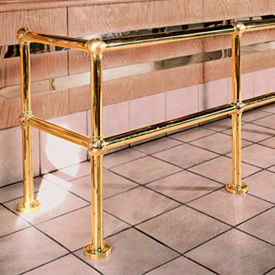 Brass Ball Railing Components
Lavi Industries Brass Ball Railing Components

Ball fittings are a great choice for traditional railing projects because of their ease of installation. Use ball fittings to construct handrails, footrails, stair rails, bar rails, ballet rails, and many other metal railing systems. The vertical posts of the railings should be made with a continuous architectural metal tube (for strength) while the horizontals are cut and fit with architectural hardware between posts. Custom angles are easy to achieve with our Flush Angle Collar for Ball Fittings. Position anywhere on a Ball Fitting to angle the connection to the desired position. Sleeve end easily slides into tubing for a flush, custom look.