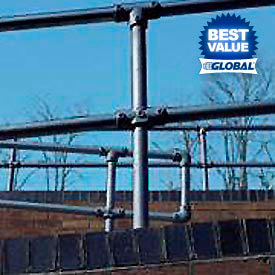 Galvanized Pipe Fittings
Galvanized Pipe Fittings Help Create Strong Rigid Structures such as Railings, Racks, Fencing, and more.
Slip-on pipe fittings allow fast, easy assembly using only an Allen wrench. Fittings are reusable. Set screw carries a vertical ultimate load of 2000 lbs. Rust resistant galvanized pipe fittings are made with malleable cast iron to provide an economical and durable solution that's used for outdoor use.
PLEASE USE THE CHART BELOW-PIPE SIZE INCHES REFLECTS THE INTERIOR DIAMETER OF THE PIPE, PIPE O.D. IS THE OUTSIDE DIAMETER AND IS REQUIRED FOR AN ACCURATE PROJECT OUTCOME. PLEASE MEASURE THE PIPE OUTSIDE DIAMETER AND REVIEW CHART BEFORE ORDERING

All Fittings Designed To Use with Schedule 40 Pipe


Pipe/Fitting Sizes
| | | | |
| --- | --- | --- | --- |
| Pipe Size Inches | Pipe O.D. | Fitting I.D. | Fitting Pipe No. |
| 3/4" | 1.05 | 1.09 | 5 |
| 1" | 1.315 | 1.375 | 6 |
| 1-1/4" | 1.66 | 1.72 | 7 |
| 1-1/2" | 1.90 | 1.94 | 8 |
| 2" | 2.375 | 2.440 | 9 |
Click for Sizing Details