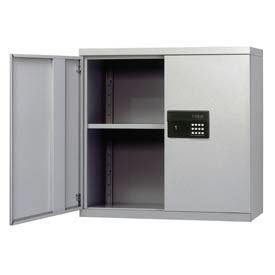 Keyless Electronic Wall Mount Cabinets
Keyless Electronic Wall Mount Cabinets Provide Secure, Limited Access To Contents While Offering Access Records.

These boltless wall cabinets are easy to assemble without the use of tools. Doors include 2-point locking system. Includes shelves are height adjustable at 1-3/4" increments. Keyless electronic coded locking handle keeps a record of the day, date and time of when the cabinet is accessed. Coded lock is available with 2 passwords; the administrator and user. Each of the passwords can be reset to any numeric combination up to 8 digits. Exterior battery pack can be plugged into the keypad. Includes an emergency key entry for back-up. Measures 30"W x 12"D x 30"H. Easy assembly.