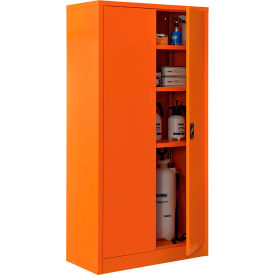 Emergency Preparedness Cabinets
Emergency preparedness cabinet be ready during emergencies, pandemics, hurricanes, tornadoes, earthquakes, or terrorism attacks.

For protected, quick access to emergency supplies during a disaster, this high performance cabinet features a durable powder paint emergency orange finish for high visibility. Spacious design includes adjustable shelves and provides dependable storage for flashlights, radios, respirators, first aid items, and much more. Choose between full height, counter height or wall mountable cabinets.