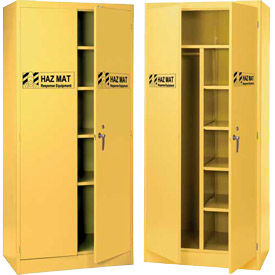 Lyon® HazMat Response Cabinets
Lyon® HazMat Response Cabinets Are Used For Use In Refineries, Factories, Garages, And More.

HazMat response cabinets are made for storage of HazMat response and spill containment equipment. Cabinets are made using steel and a safety-yellow finish for easy visibility. Shelves are adjustable at 2" increments. Double doors swing open a full 180° for full access to contents. 3-point locking device. Storage cabinets are available with lever handle or paddle handle. Cabinets are available with Four-Shelf Configuration or Center Partition Configuration which includes one full width top shelf, 4 half shelves and coat rod. Storage Cabinet features 4 full-width shelves. Combo Cabinet features one full-width shelf, center partition, coat rack and 4 half-width shelves. Lifetime Warranty.