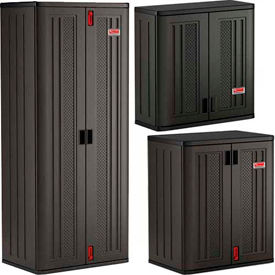 Suncast Commercial Plastic Storage Cabinets
Suncast Commercial Plastic Storage Offers Secure Content Storage For Auto Garages, Storage Rooms, and more.

Storage cabinets are designed to protect critical equipment and gear, and keep tools stored safely out of harm's way. The cabinets are blow-molded with heavy-duty resin, built with reinforced adjustable shelves and lockable handles. The resin housing is resilient to warping, rusting, and denting, but is lightweight enough to make set up easy. Shelves have a capacity of up to 200 lbs. Suncast cabinets feature a sleek design that elevates your work environment, creating an attractive space.