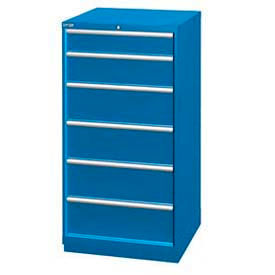 Lista® 28-1/4"W Eye-Level Height Modular Drawer Cabinets
Lista® 28-1/4"W Eye-Level Height Modular Drawer Cabinets

LISTA Standard-Width Drawer Cabinets provide maximum weight-bearing capacity, tailored drawer organization, and productivity enhancing ergonomic item handling and access. Heavy-gauge welded cabinets can be stacked 5-high, even when fully loaded. All drawers extend 100% for easy access to all stored items. Each drawer has 4 slotted sidewalls and a perforated bottom grid for positioning. Full drawer sidewall heights allow drawers to be completely filled without wasted space. Extend on precision ball bearings, virtually no side-to-side play. 24x24" inside drawer dimensions. Full-width handles double as label holders-end caps keep labels in place. Features a single-point multi-drawer cylinder locking system-when one drawer is extended, the others are locked closed to prevent accidental tipping. 2-3/8"H fork truck base can be bolted side by side. 14-gauge steel frame; 19-gauge steel body; 16-gauge steel drawer front; 19-gauge drawer body. Wear-resistant baked-on enamel finish. NOTE: Height includes fork truck base (2-3/8"). NOTE: The full LISTA product line is available. Call a Certified Product Specialist for a quotation.