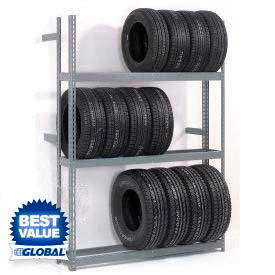 Global - Boltless Tire Racks
Boltless Tire Racks
Safely store and display automobile and light weight truck tires with this strong roll formed steel tire rack. These tire storage systems feature positive interlocking beams and post connections. Racks are constructed of 2-1/4" x 1-1/2" x 14 gauge uprights and double riveted horizontal beams that adjust vertically on 1 ½ increments. These truck storage racks assemble quickly, without tools, nuts or bolts. Durable gray baked enamel finish. Built for Tires Only.

Single Entry racks attach to wall for access from one side.
Double Entry racks are 2 units joined with tie beams with an aisle in between.