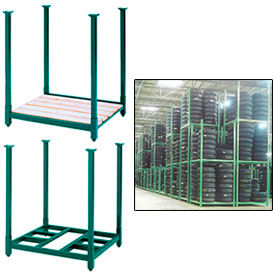 Steel King - Portable Stack Racks With Deck
MADE IN USA

Stacking Storage Racks Provide A Convenient, Economical Alternative To Pallet Racks.

These forkliftable storage racks accept pallet storage or can be used as a pallet itself. Base allows 4-way forklift access for portability even when loaded. Stacking racks have a 4000 lb. load capacity and are made with 1-1/4 x 2-1/4 x 10 gauge tubular steel. Posts allow stacking up to 4 units high. When stacked, storage racks eliminate load-on-load contact that causes product-crushing damage found on standard pallet racks. Stackable storage racks have 4-1/2 under clearance. Open Deck Racks include base and 4 posts. Wood Deck Racks include base, 4 posts and 5-1/2 W x 3/4 thick pine planks to provide a closed base surface. Easy modular assembly; posts snap into sockets on base, no tools required. Green enamel finish.

AKA "STACKABLE PALLET RACKS"